In February 2012, the 37th DVA received an e-mail from LTC (Ret) Joseph Boyd, U.S. Army Retired, the son Felix Boyd who served with the 117th Combat Engineer Battalion as well as in HQ Company and Charlie Company of the 37th ID during WWII.  Joe indicated that at the end of the war his dad acquired nine sketches drawn by E.J. Dollriehs.  The 37th ID had evidently made lithograph copies that Felix brought home from deployment as wartime mementos.
Joe said that he had only found two of the nine sketches he has on-line and it was his hope that the other seven could be shared with the world.  We proudly post them below thanks to Joe and Felix Boyd.
Dollriehs work is well known to the 37th DVA.  Edward "E.J." Dollriehs, an artist, served with the HQ Battery of the 37th Infantry Division during World War II.  His work appears on pages 284, 294 and 301 in the book "The 37th Infantry Division in World War II" written by Stanley A. Frankel for which the 37th DVA holds the copyright.  Two of those sketches, which were also part of the lithographs that Felix had, appear below.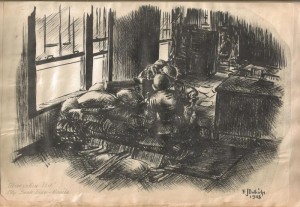 Page 284: "Observation Post City Bank Building"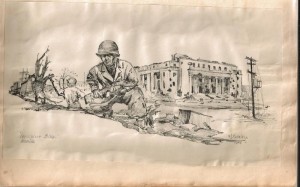 Page 294:  "Legislative Building, Manila 1945"
Dollriehs's portrait of MG Robert S. Beightler, Commander of the 37th ID during WWII, seen below, hangs in General Beightler Armory located in Columbus, Ohio.  That portrait was presented to the Ohio National Guard by the 37th Division Veterans Association on 11 November 1965 during the armory's dedication. The 37th DVA presented Dollriehs with a life membership to the association at that time.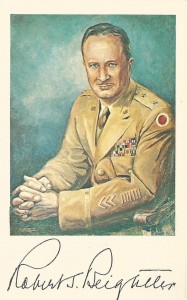 The 37th Division Veterans News published three articles about the armory's dedication; two of them mention Dollriehs.  Links to each can be found here:
November 1965 37th Division Veterans News
February 1966 37th Division Veterans News
August 1968 37th Division Veterans News
Additional artwork by E.J. Dollriehs during WWII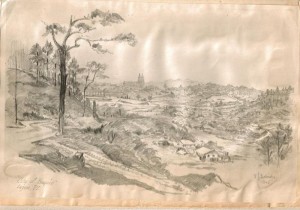 City of Baguio, Luzon, P.I. 1945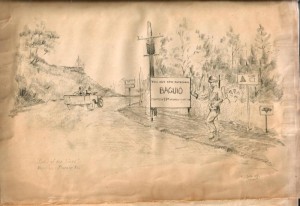 Sign of the Times, Naguilian, Baguio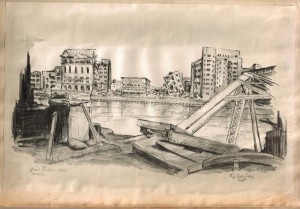 Great Eastern Hotel, Manila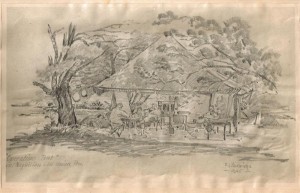 Operations Tent Vic. Naguilian-La Uni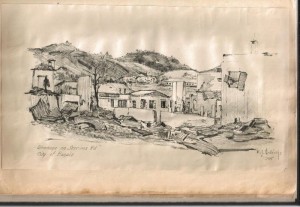 Wreckage on Session Road City of Baguio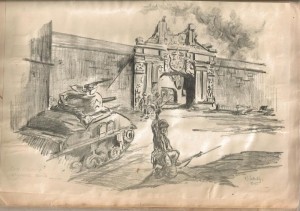 Gate Crashers, Intranuros, Manila
Bonifacio Monument, Grace Park, Manila